I don't think there has been any other holiday that I have been so good on posting about since I started TBV… In lieu of Halloween festivities starting as early as next weekend, I rounded up some wickedly delicious cocktails – some may be more intensive merely because the ingredients call for dry ice, but well worth it if you are hosting a dinner party. Read the full post for recipes below and I hope you enjoy!
Sleepy Hollow Cocktail
INGREDIENTS
½ ounce absinthe
2  ounces mezcal
1  oz st. Elizabeth allspice dram
2 dashes angostura bitters
Rosemary sprig, for garnish
Pour absinthe into a rocks glass; swirl to coat, and discard liqueur.
Fill a cocktail shaker with ice, then add mezcal, st. Elizabeth, and 2 dashes of bitters. Strain cocktail into a glass over ice. Light rosemary with a lighter or culinary torch until smoking and place it in the glass. Serve immediately.
Source: The Jewels of New York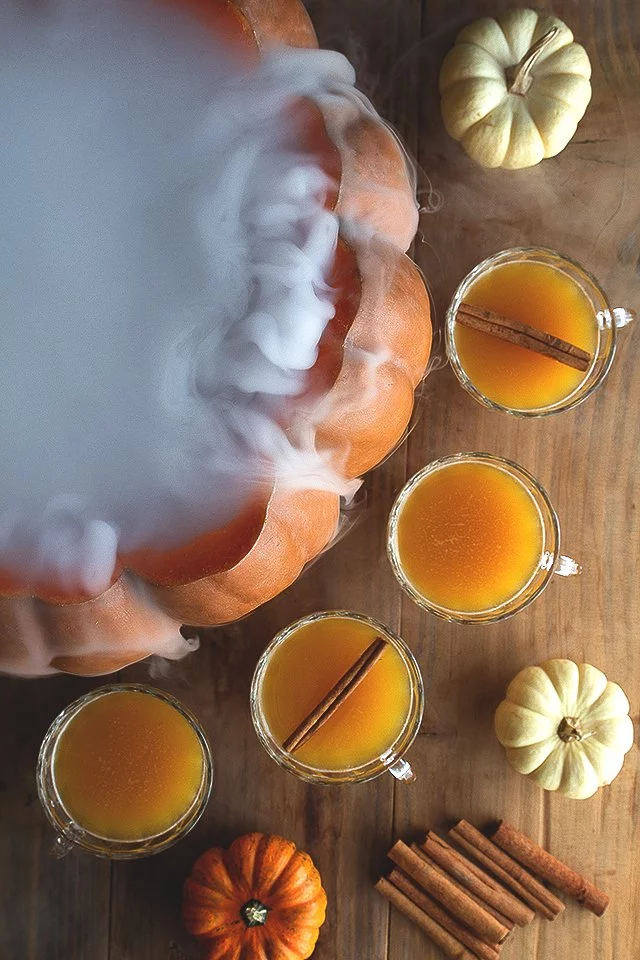 Halloween Pumpkin patch
For the halloween spiced syrup
INSTRUCTIONS
For the spiced syrup
Add the spices to a small saucepan over medium heat. Shake the spices back and forth so that they do not burn.

As soon as the spices become toasty and aromatic add the water and sugar. Stir continuously to dissolve the sugar. Bring to a simmer and turn the heat to low. Let simmer for 10 minutes, remove from heat, and strain through a fine mesh strainer.

cool to room temperature before using.
For the punch
In a large bowl, add the spiced rum, orange juice, lemon juice, spiced syrup and pumpkin puree. Stir to combine. 

Once combined, pour the mixture through a fine mesh strainer into a large pitcher and chill until ready to serve.

Meanwhile, place a large bowl into your hollowed pumpkin. Be sure your bowl is safe to handle dry ice. I used a metal bowl. Next, use tongs to fill the bottom of the bowl with dry ice, and cover with a slightly smaller bowl. This bowl will hold your punch. Again, make sure both bowls are safe for dry ice. Certain materials will shatter when exposed to dry ice.

Pour the mixture into the punchbowl. Add the sparkling water and stir to combine.

Now for the fun part. Carefully pour hot water into the bottom bowl so that it contacts the dry ice, thus activating the vapors.

Guests can ladle the punch into their glasses and garnish with a cinnamon stick. Remember to give it a stir as you serve, as the ingredients will naturally separate over time.
Source: Honestly Yum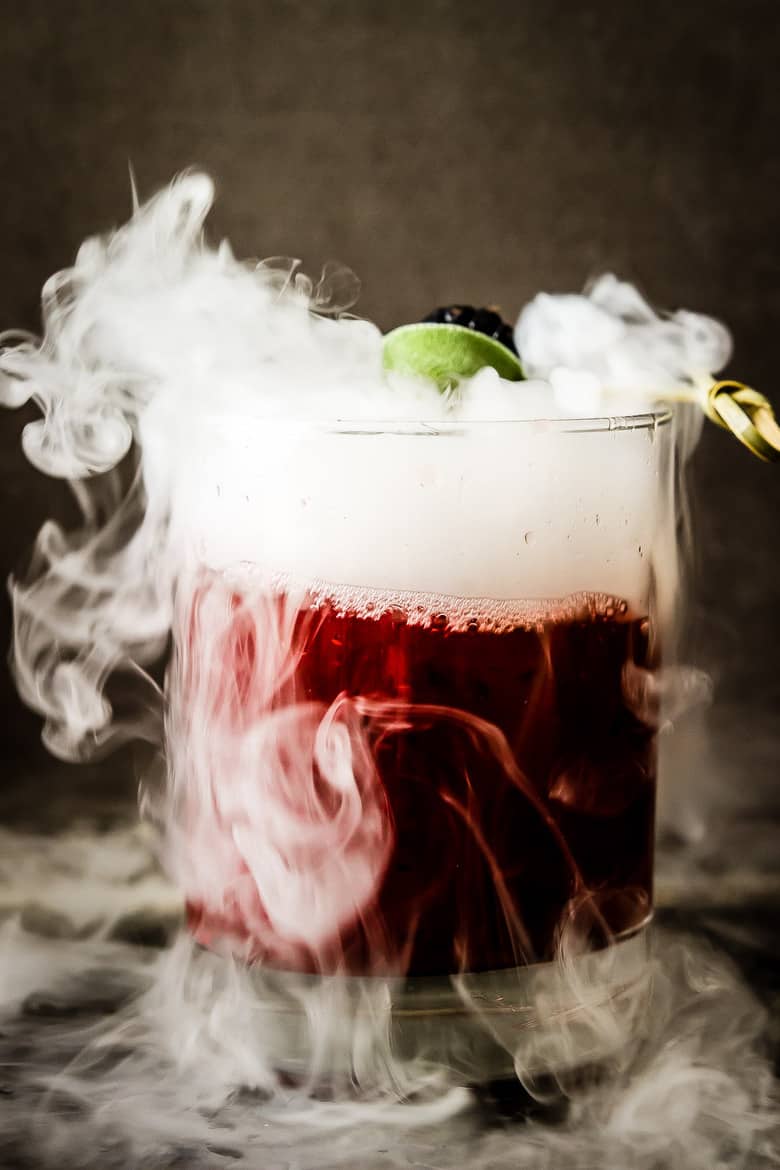 smoking blackberry sage margarita
BLACK LICORICE DELIGHT
INGREDIENTS
4 parts Pernod® licorice liqueur
3 parts blackcurrant cordial
8 – 10 parts water
black food coloring or icing coloring
1 cup sugar
INSTRUCTIONS
Fill a pitcher with water, and add black food coloring in small increments until water reaches desired blackness.
Pour black water into ice tray and allow to freeze completely.
While ice is freezing, pour 1 cup sugar into a bowl. Add 1/4 tsp. black food coloring to the sugar and use a fork to mash until fully incorporated.
Dip the rims of your glasses into water, and then into the black sugar. Don't put too much water on the rims, as it'll cause the sugar to drip (which is nice and on-theme, but extremely messy). Add 1 or 2 cubes of black ice to each glass.
In a separate pitcher combine the Pernod, blackcurrant cordial and water, and pour over ice cubes.
Source: Camille Styles
THE POISONED APPLE
INGREDIENTS
• 2 ounces apple cider
• 1 ounce pomegranate juice
• 2 ounces tequila
• Several chips of dry ice (Tip: Keep the chips small enough to dissolve quickly. I like to plop them in before I serve the drinks, so there's no risk of guests getting frostbite from a chunk of dry ice!)
Combine ingredients with ice in a martini shaker. Shake to mix and strain into a chilled martini glass.
Add dry ice to the glasses just before serving. Makes one cocktail.
Source: Minted Julep
Bride of Frankenstein Cocktail
Ingredients
2

Tbsp seedless blackberry jam

2

tsp vanilla syrup ( homemade vanilla simple syrup or Torani)

2/3

c good quality vodka ( I used Ciroc and Ciroc coconut)

Champagne, Sparkling wine or Prosecco

Fresh blackberries on a toothpick for garnish
Instructions
In a cocktail shaker stir together the jam and vanilla syrup until well mixed. Add ice and then the vodka and shake well.
Strain the mixture evenly in two champagne flutes. Top with prosecco. Garnish with blackberries and serve immediately.
Source: Pineapple and Coconut
The red queen
INGREDIENTS – Serves 2
100

 

ml

 

| 3 fl oz cranberry juice

80

 

ml

 

| 2.7 fl oz

 

1/3 cup Hendricks gin

40

 

ml

 

| St Germain

 

Elderflower liqueur

juice of 1/2 lemon

fresh cranberries threaded on cocktail sticks to garnish
INSTRUCTIONS
Fill your cocktail shaker with plenty of ice and add all the ingredients (apart from the fresh cranberries). Shake until a frost forms on the shaker – about 30 seconds.

Pour into chilled martini or coupe glasses and garnish with the fresh cranberries.
Source: Super Golden Bakes
Thank you for reading and I hope you enjoy these tasty cocktails! xx Brittany